Welcome to the Monsterzillaz Stars Wiki
This Wiki is about spooky dolls such as Monster High, Bratzillaz, and Novi Stars. Monsterzillaz Stars is a mix of the three. Please edit the wiki, help out, make Blogs and have wicked glam fun!
Novi Stars
Novi Stars were released by MGA Entertainment in 2012. The dolls revolve around a set of alien girls who land on Earth and want to be like humans. Each doll has a special feature that is promoted on their box, and has a bio, which reveals the details about the character. Each of the dolls come with a pet and a glow-in-the-dark doll stand. Nita Light is the only doll that does not come with a pet. Instead she comes with an energy pod.
Bratzillaz
Bratzillaz dolls were released in summer 2012 to compete with Mattel's popular Monster High dolls. They were meant to be a spin-off of MGA's own popular line, Bratz. Each main character has a Bratz cousin and a similar name to their counterpart. Jade J'adore and Fianna Fins are the only Bratzillaz to have the same name as their Bratz counterpart.
In August 2012, MGA launched a Bratzillaz web series which helped the franchise grow in fans. In the webisodes, it was revealed the Bratzillaz had human forms before turning into witches at Bratzillaz Academy, a school for fashion and magic.
Monster High
Where the ghoul kids rule!
Monster high came out in July 2010 and was inspired by the old horror movies such as: sci-fi, Frankenstein and Dracula. It was created by Garret Sander and illustrated by Kellee Riley. It is said to be competing with other Mattel products such as barbie in the marketing line.
The dolls are 24cm in height (11 inches for male) they have minor over-sized heads and pin noses with O.T.T eyes. They are made from ABS plastic and their heads are made from PVC. Each doll is unique and has a different skin tone and color. (no doll is identical) 
Despite Monster high being officially released in July the website hit the screens of thousands of future fans in May 2010. Visitors can gain access to bio/profiles of all main characters and can also access all the webisodes made and the Monster high theme tune A.K.A 'Fright song.'
The books were written by Lisi Harrison-author of the clique series and an ammature author (as she claims on her blog). She has been more succsesful than put out however and is a tee-fiction writer more than anything else. there are 4 books in the monster high series: monster high, Monster high the ghoul next door, Monster high where there's a wolf there's a way and Monster high Back and deader than ever.
Featured Image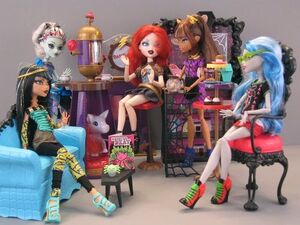 Featured User
Monster High vs Bratzillaz XD
Featured Character
Draculaura attends Monster High and is the daughter of the one and only, Dracula.
Monthly Poll
What franchise is your favorite?
Recent Blog Posts
Create blog post
Blogs
I'm back now! I missed you guys heaps. I won't be on wikia as much because I have to study :(

Stay C…

Read more >


Hey everyone guess what I got my new kitten. His name is Sheldon and he's a ragdoll kitten. He is …


Read more >

Because my brother wanted a new cat. We finally are getting a Ragdoll kitten from MkidsRagdolls.com…

Read more >
See more >